Game: Transformice Free Download

About This Game
Transformice is an MMO Mouse Simulator platformer about dozens of mice running to bring back the cheese, trying to avoid pitfalls, leading to unexpected and hilarious situations!
You have less than two minutes to be the first mouse to bring back the cheese by all means, with the Shaman's help or curse within the multiple game modes and millions levels available: no two games are ever the same!
In this stupidly fun "free to win" game with hats, will you survive the cheese quest? Will the Shaman help or ruin everything? Join the 55 million people who already tried!
The Mouse Simulator You've Been Waiting For
You are a little mouse looking to bring back the cheese; each successfully taken back unlocks more content and levels up your Shaman skills… But will you be able to make it? Things often go disastrously wrong with ridiculous chain reactions full of evil physics. There's always a trick in these uncaring set-ups!
Shaman mouse, Pro Gamer or loser? Good or evil? You're in charge!
Every round, one of the player is the almighty Shaman who can use his skills to help his fellow mice get safely to the cheese… or ruin everything? The more mice you save, the faster you will level up in the Shaman's skill trees to build amazing contraptions! Create whatever your imagination can come up with, the fate of the game is at your fingertips.
No Two Games Are Alike
Will a horde of mice rush in and get everybody killed? Will the Shaman successfully get you to the cheese? Or ruin it all? Will the cannon balls let you? With seven official game modes, 200 official maps, dozens of extra player-made gamemodes and more than 5 million player-made maps, almost endless possibilities await you. Not even counting what you will make thanks to the level editor and LUA modules.
Join For the Fun, Stay For the Friends
Gather with your friends to play, chat, troll and laugh together. Participate in the upcoming events, create your own tribe and share on the forums. Challenge your friends to get the top titles and then challenge the world by farming your "firsts"! You'll be challenged by dozens if not hundreds of other mice to be the best.
The Ethical Free to Play Business Model
Transformice is -literally- free to play. HATS! All the items you can buy are and will always be cosmetic: you will never see a gameplay item! Also, 100% of the buyable items are unlockable ingame: that's right, only with your skill you can have them all! Good luck though, some "master achievements" items are very difficult to get. Every cheese you bring back is added to your wallet: the more cheese you have, the more content you will unlock.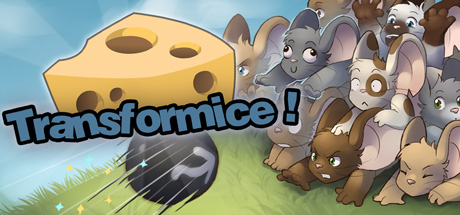 Transformice Trailer
System Requirements
Windows
macOS
SteamOS + Linux
Minimum:

OS: Windows XP
Processor: 1 GHz
Memory: 512 MB RAM
Storage: 60 MB available space
Minimum:

OS: Mac OS X 10.6
Processor: 1 GHz
Memory: 512 MB RAM
Storage: 60 MB available space
Minimum:

OS: Ubuntu 12.04 and later
Processor: Intel Pentium 4 processor or later that's SSE2 capable
Memory: 512 MB RAM
Free Download Transformice Game
Full Game, latest version. Download for Free!