Game: Tailor Tales Free Download

About This Game
Design clothing and romance a guy of your choice. Tailor Tales is an otome that has you playing a female fashion designer who runs her own boutique. Set in a fictional European country, her life gets complicated when she meets a certain guy in a fateful encounter. Throughout the game she'll be required to design clothes for clients to earn enough gold to purchase the next chapter of the story.
Customize your main character's looks and choose whether to be 'fierce' or 'kind' with your guy. Perhaps you'd like to kiss him first, or would rather he take the lead; it's all your choice and there are no bad endings! Each guy has his own unique route so you can jump right in and experience a completely different story.
Features
Design your own clothes
Customize the main character and dress her up
Decorate your boutique
Read romantic stories about a bachelor of your choosing
Choose whether to act fierce or kind
2 endings for each bachelor (no bad endings!)
9 CGs per bachelor
Partial voice acting
Completely unique stories with no common route
4-5 hours of gameplay per route, or about 100k words per character
Blinking sprites and CGs, plus animated mouths
Night mode version for light on dark reading
And it's free to play!
Tailor Tales will have 8 routes in the future and will get updated with each new finished route–there are currently 5 completed routes!
The love interests
Tailor Tales is all about the romance, so here's an introduction to the eligible guys:


Neil is wealthy, prickly, and doesn't really want to interact with you. When you met Neil in your childhood–a memory he's very fond of–he mistook you for a boy. Now that you're an adult, he doesn't quite know how to deal with you. Be whisked away in his awkward charms, visiting masquerade balls and the opera.
Complete

Dimitri is the younger brother of your ex that cheated on you. When Dimitri is a college student and looking for a room to rent, you somehow end up inviting him to live at your boutique. He's sweet, easily flustered, and loves to cook for you. But he's also 4 years younger than you! Maybe living together will bring you closer.
Complete

Caine is a slippery thief with no tact. When you see him getting bullied at his part time job, you take pity on him and help him out. While he can be loud, rude, and unable to really express how he feels, Caine just needs a little push in the right direction–even thieves can get lonely.
Complete


In an alternate reality where people have superpowers, you design costumes for superheroes. James has the ability to fly but one day he literally crashes in front of your boutique. James looks like he'd rather throw you off a skyscraper than listen to you. He's stoic and rarely expresses his emotions. But then, you get kidnapped…
Complete


Aiden is chatty, kind of flirty, and makes you laugh–online, that is. You meet Aiden playing a popular online game and you want to meet up. Except when you do finally meet him, you realize… you've been catfished! In reality, Aiden is a bumbling fool whose social anxiety forces him to keep running away from your wrath.
Note: Only the first several chapters for Aiden's route are free to play.
Complete – Releasing sometime 2023/2024


This smug specimen is Gray, your rival gang leader in high school. Except he doesn't know that you're the leader and ends up taking a liking to you. Years later, you meet Gray again when you've started your own boutique. He demands you rent out your basement to him, so he can run his 'board gaming group'. Except you start hearing strange sounds coming from the basement… Once a delinquent, always a delinquent?
Complete


Set in the 18th century, you are engaged to the duke… but suddenly, you're executed? You wake up to find you've been sent back in time before your execution. Immediately you appoint Eeyok as your guard, as he was the only person who tried to save you from your execution. Eeyok is wary of you and your intentions, but he will sacrifice his life to save yours.
Currently in development


Zex is standoffish, curt, and kind of rude to you. His younger brother is much sweeter on the other hand, so you end up hanging out with them. Soon you notice something is wrong with their home life… Zex is nowhere to be found at night, their mother is never around, and his little brother is home alone. Is Zex doing criminal work at night to make ends meet?
Coming in the future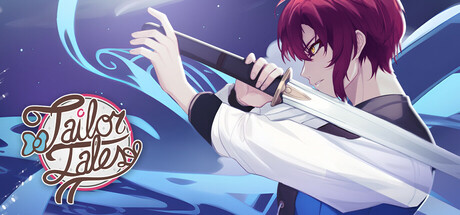 Tailor Tales Trailer
System Requirements
Minimum:

OS: Microsoft® Windows® 7/8/8.1/10 (32bit/64bit)
Processor: Intel Core2 Duo or better
Memory: 4 GB RAM
Graphics: DirectX 9/OpenGL 4.1 capable GPU
Storage: 1 GB available space
Free Download Tailor Tales Game
Full Game, latest version. Download for Free!