Game: Final Slam 2 Free Download

About This Game

MESSAGE FROM DEVELOPER: Thank you to all Final Slam 2 players! Please click "Read More" in the description and scroll to "Message From Developer".
Customize your fighter (80 slots to save your avatars) with tons of different options and get ready to fight into the Championship.
Final Slam 2 is a PC fighting game that allows you to create your own fighter and win the Final Slam championships or play through the official Final Slam story in story mode. The game is packed with over 40 in-game fighters, but you can still create your own fighters by customizing his or her attire, moves and stats. You can even adjust the Artificial Intelligence of your fighter! Create yourself. Create your friends. Create your enemies. Create casual guys, ninjas, movie stars, wrestlers, shaolin monks, kung fu fighters, boxers, warriors, robots, game characters and even monsters. Then fight!
Game Features
Creator Mode:
In the creator mode, you can create a wide variety of fighters. There are tons of different body parts, attire, fighting moves, throw moves and special moves to choose from. The fighting moves are animated following several martial arts, brawling and wrestling moves. The special moves comprise of different styles such as magic, elemental, Kung Fu, gadgets and wrestling. You can also control the actions of the fighters when they are being played by the computer by changing the AI settings. You will have 80 slots to save your created fighters. All fighters can be stored/exported as plain text format slamcodes, so you can copy the slamcodes of the fighters and save them outside the game or share them online with other players. You can also import fighters created by other players by inputting the slamcodes that are shared by other players online!
Story and Versus Mode:
Fight the evil that is threatening Earth, or fight individual matches against the computer or a friend in versus mode. The fight arena is zoomable, with blood effects.
Final Slam Mode:
Enter the Final Slam mode against 80 to 100 fighters and fight up the rankings. There are 3 different titles to win. Get up to the top and win the World Heavyweight Championship!
Arcade Mode:
See how good you are by fighting opponent after opponent and tracking your win/loss record.
Message From Developer
Hi, I am Josh the developer of Final Slam 2. I would like to thank all of you who tried and played the game, like or dislike it. A lot of the players dislike Final Slam 2 and if you compare it to other full-blown mainstream competitive fighting games and you don't like it, well, your dislike for the game is justified and I understand. With very limited budget and with only one person working on the game (which is myself), as opposed to bigger-sized indie or mainstream companies, I understand that I cannot provide the best graphics, gameplay and most modern features to satisfy the hardcore fighting gamer. Therefore, I decided to make it more of a casual game and focus on the uniqueness of the game that not many fighting games have. And this uniqueness comprises:
1. the character creation mode with speed creation settings
2. Final Slam Season Mode where you can win titles and fight up a league (fight with characters you created as well)
3. the automatically-generated AI fighters in season mode.
Other features include the ability to export your fighter to a text string that can be saved and shared anywhere you like. Therefore, it is possible to create an unlimited amount of characters. Some players have had a lot of fun playing the game, but some haven't and others don't even care about what the game has to offer. But anyway, I accept all opinions and judgment about the game and welcome you to try it out at a low cheap price. You can request for a Steam refund if you feel it is not for you. Thanks again.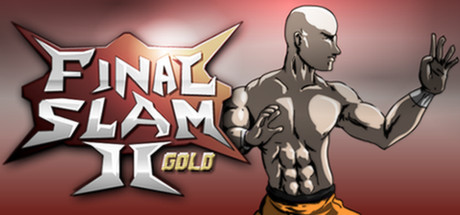 Final Slam 2 Trailer
System Requirements
Minimum:

OS: Windows XP and above
Processor: 1.6GHz
Memory: 1 GB RAM
Graphics: any card with DirectX 9 and above compatible
DirectX: Version 9.0
Storage: 100 MB available space
Sound Card: any card with DirectX 9 compatible
Additional Notes: Keyboard, Mouse
Free Download Final Slam 2 Game
Full Game, latest version. Download for Free!